---
| | | | |
| --- | --- | --- | --- |
| Type of Rock: | Type of sediment: | Description: | Grain size: |
| Sedimentary rock | Detrital | Split into thin layers | <1/16 |
THIN SECTION

A thin section is made by grinding down a slice of rock which has been glued to a glass slide until it reaches a thickness of about 0.03mm (30 microns). At this thickness most minerals become more or less transparent and can therefore be studied by a microscope using transmitted light.
Depositional Environments of Shale
Shale is a rock that comes from relatively deep, calm water. Because shale is made of very small particles (fine sediments), it must be deposited in water that is calm enough to no longer suspend such fine particles. Think of water that can deposit shale as water in a bathtub. When you're really dirty and you take a bath, you scrub all the dirt off and don't realize how dirty you were until after you get out. When you are in the tub, you create enough current in the water to suspend the dirt. Once you get out, however, the current in the water slows and eventually stops, allowing all of the dirt to settle down to the bottom. Shale forms in the same way. Any place the water is calm enough for fine sediments to settle out, you might find a shale.
Environments of deposition for different sedimentary rocks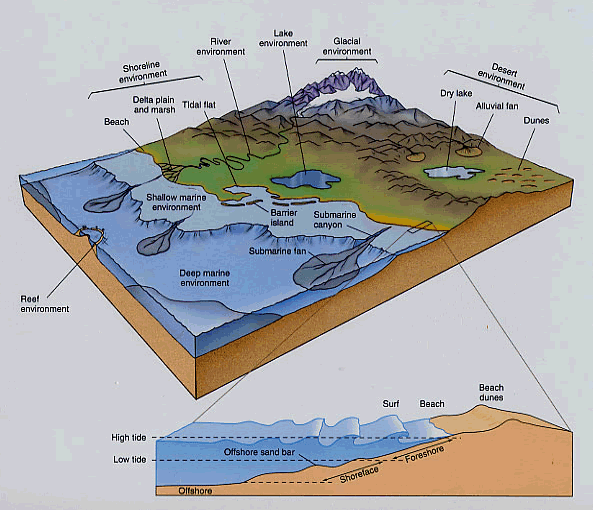 © Guillermo Rocha, P. G. / Brooklyn College Geology Department